Heavy machinery is a vital part of many industries, and without it, the development of certain sectors and services would not be the same as it is today. However, the transportation of heavy machinery in comparison to general or more concise machinery is very different. In this article, we will discuss the different methods used, and why it is important to make the correct choice when transporting industrial machinery.
HEAVY MACHINERY - METHODS OF TRANSPORTATION
The shipment of industrial machinery makes up a significant part of the transportation industry, each job paired with a comprehensive and specialized method in order to ensure the heavy equipment is safely transported from one destination to another.
Shipping methods that are used for transportation services can vary and are usually selected based on the load and size of the machinery being transported.
Lift On / Lift Off
Lo/Lo or lift on and lift off is a method of machinery transport that involves the use of a crane to maneuver heavy machinery onto and subsequently of shipping vehicles and conveyances. This method is a relatively simple way of moving heavy equipment, especially compared to other methods.
However, in order to find a crane that is suitable to move your load as well as a team experienced and professional enough to provide this type of request, companies may have to pay significantly more for this service, compared to if your cargo was able to roll or be moved in a similar way.
Roll-On / Roll-Off
The method of roll-on/roll-off is the easiest and quickest way to load and ship machinery and equipment but only given that the shipment has the ability to be rolled. Heavy machinery that is able to be wheeled can easily be moved onto a variety of shipping conveyances whether that be trucks, ships, or containers.
The ability to do this will not only save you time in the loading process but also cut down the cost needed to supply labor to help you in otherwise more complex loading methods.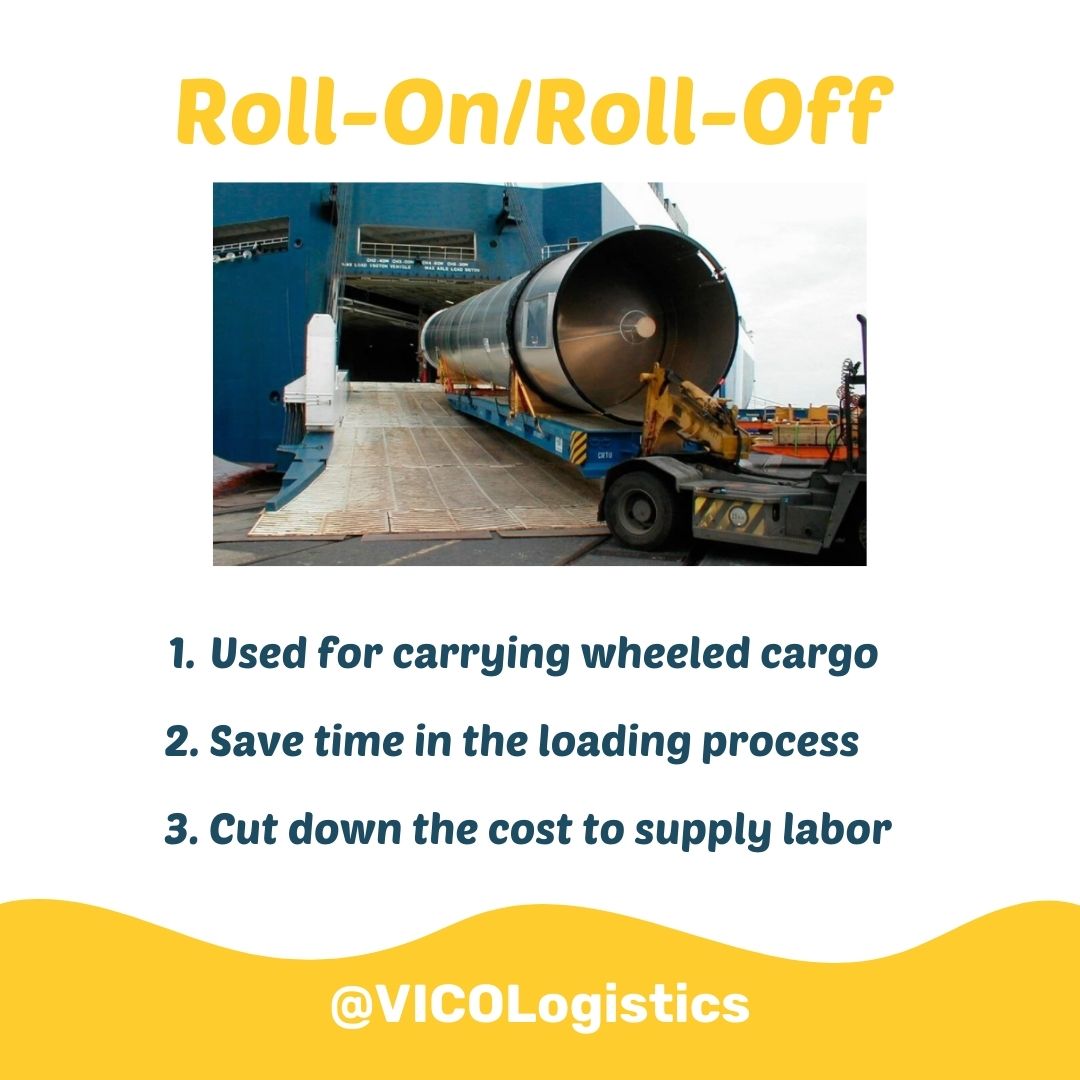 Container Shipping



Container shipping is the most common method of shipment and allows for easy loading and unloading of machinery and equipment. The standard container used for this process is either twenty or forty feet, meaning that although this method is the most common you may run into issues if your heavy machinery is larger than those dimensions.
If you are using container shipping as your method of transportation then due to the limited size of containers you may need to disassemble your cargo in order for it to fit into the containers. This would take a multitude of labor and time in order to do, so shipping heavy machinery in this method is not always the most useful.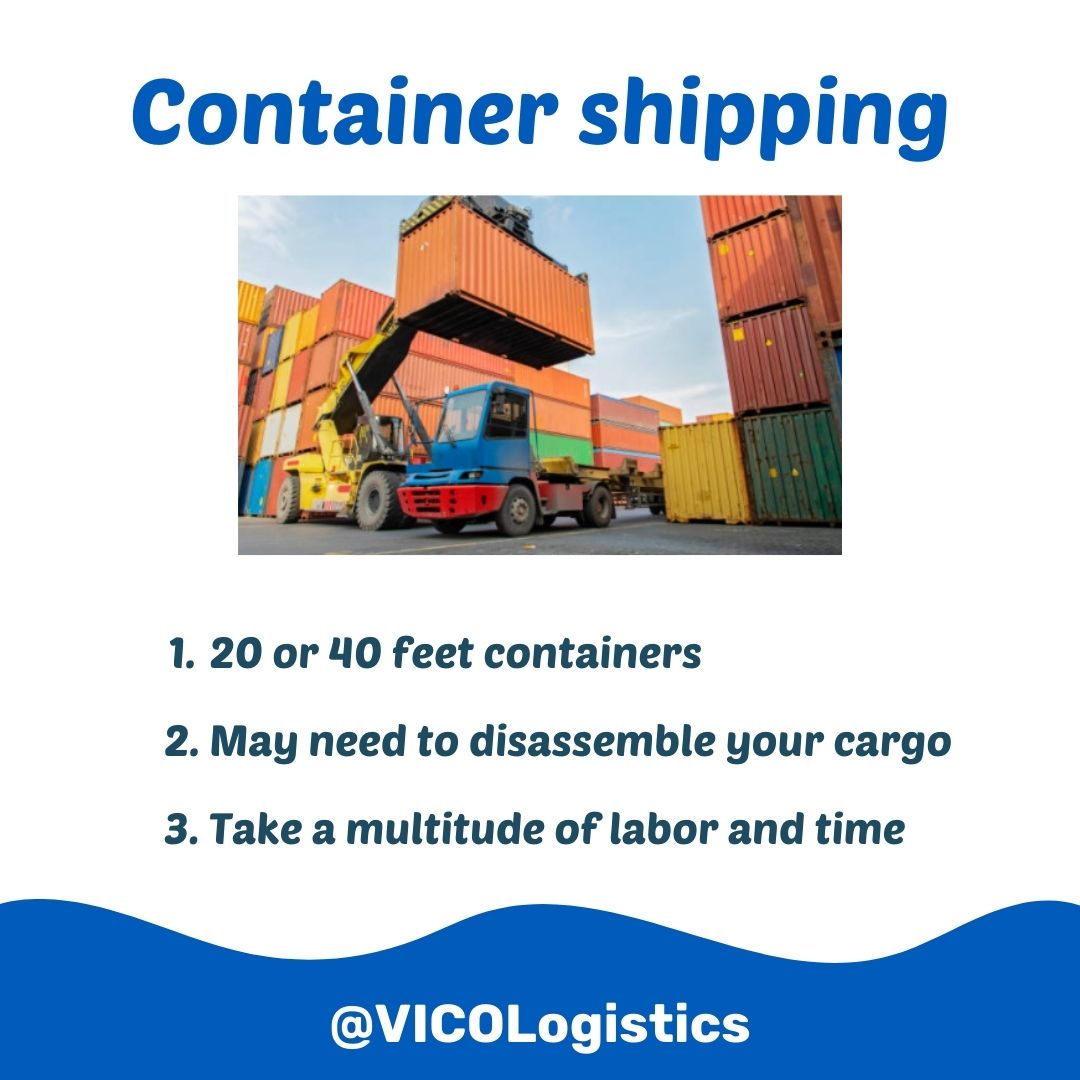 >> How VICO Shipped Heavy Lifting Cranes To Hong Kong Island

​
​
HEAVY MACHINERY AND EQUIPMENT SHIPPING- COSTS
Density
The density of your shipment is the gateway for your answer to all your shipping needs, this can be anything from price, speed of delivery, method, and ease. When your density has been calculated you can then decide which method of shipment is best for your budget and company as a whole.
The cost of shipment for your heavy machinery will be dependent on its density, meaning knowing the value of your equipment is extremely important. The difference in price will be all dependent on this factor, meaning not all equipment shipped will be the same. This factor also enables companies to calculate matters such as insurance and end costs altogether.
Insurance
Heavy machinery is expensive and the time, labor, and parts needed to fix any damaged parts can cost thousands and be very time-consuming, so when shipping such equipment it is extremely important to ensure you have the right freight insurance to protect yourself from any possible damage done to your cargo.
Each shipper will have their own terms to what their insurances covers, and so it is also possible to purchase extra insurance from third-party providers in order to cover any queries that you may have. This would mean the cost of your shipment would rise, but it may be the difference between paying out much more if your machinery were to get damaged.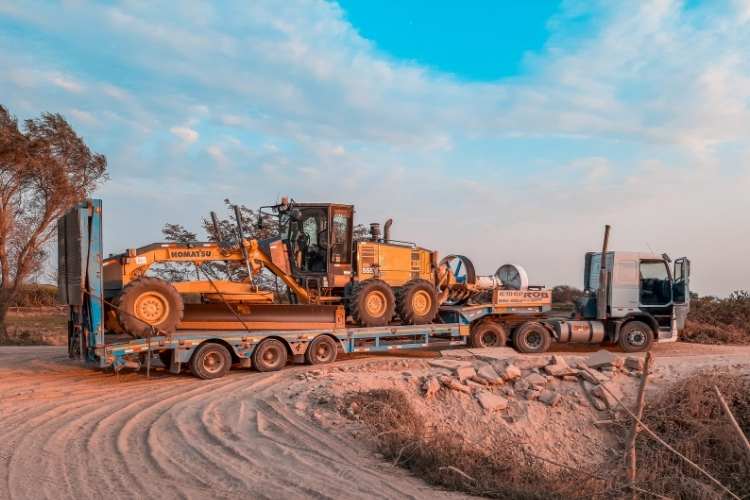 Freight Forwarder
Companies may choose to pass the heavy responsibilities involved with shipping larger equipment onto a third party such as a freight forwarder in order to ensure the job is done correctly and responsibly.
Freight forwarders are third-party experts that connect shippers with carriers and haulers, as well as take care of all the related paperwork and information involved with arranging a shipment. Freight forwarders are also industry professionals' that have years of experience and knowledge, they will also aim to get your shipment's needs met in the most cost-effective and reliable way possible. By choosing to partner with such a party you instantly gain the benefits of knowing your machinery is being prioritized and sent to its end destination and the safest and quickest way possible.
Destination
The destination to which your heavy machinery needs to be sent will depend on not only the type of freight forwarder you use, ranging from local to international, the cost per mile, and many other relating factors.
When shipping to different countries there may be extra tariffs, tolls, or licensing fees added to your shipment which can increase the price of your service quite dramatically, not only this but also the route has taken can add to this factor as well slow down your delivery process. The best way to tackle this is to ensure the shipping team you are involved with is updated on any new laws, rules, or risks regarding shipping in your allocated country.
If your destination is located within the Indochina region then VICO Logistics is the expert and recommended forwarder for any counties within those regions. VICO will ensure your shipment is delivered in the safest, most reliable, and fastest way possible.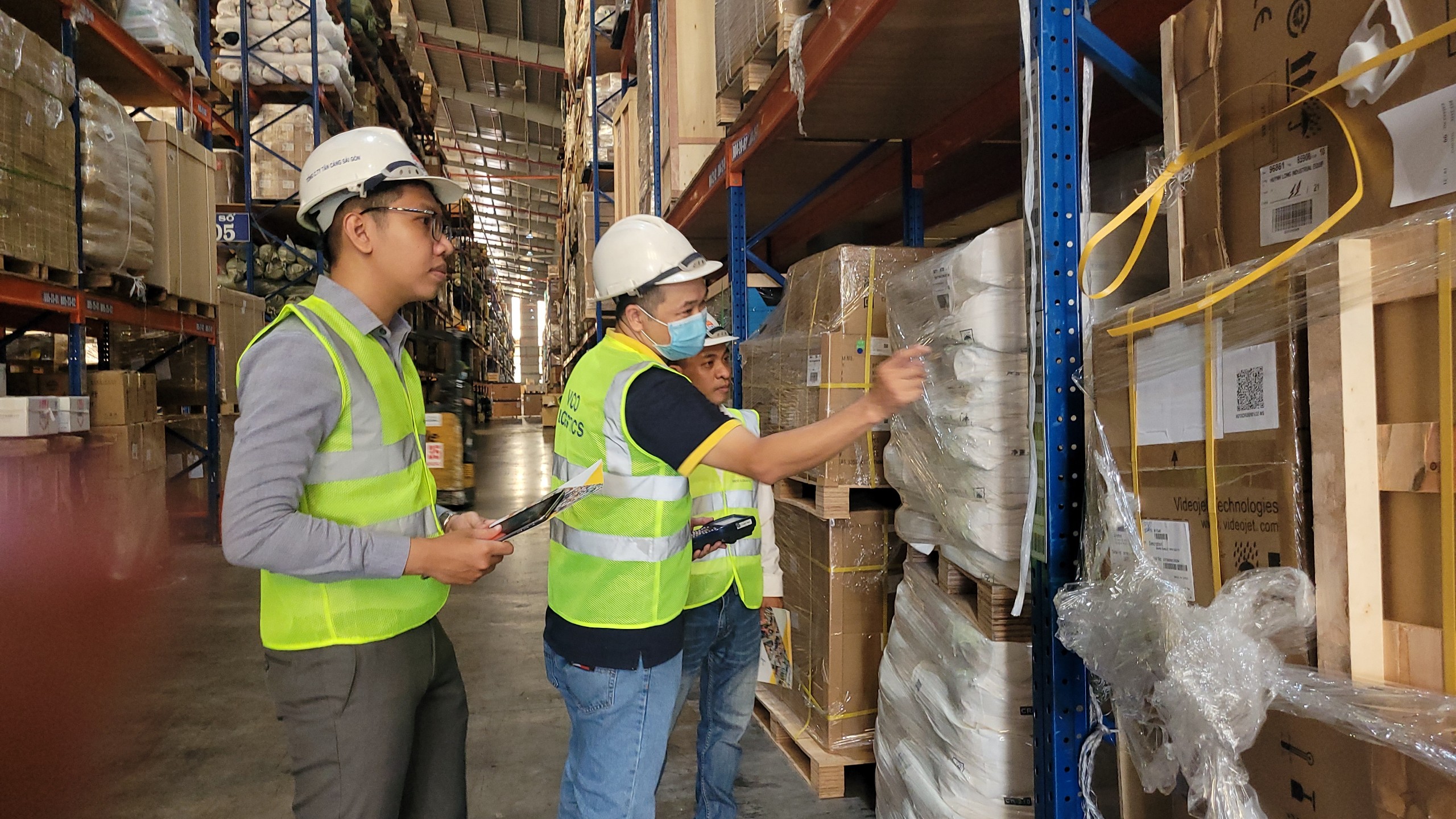 Heavy machinery shipping is time-consuming and often involves various specific methods in order to make it happen, deciding on the right method as well as freight forwarder can massively cut down costs as well as give a smoother and more reliable delivery. 

 


Deciding to pair with industry professional third-party forwarders can increase the success of getting more for your money and ensure that your heavy machinery is taken care of and shipped as safely as possible.
Read more:
>> Where to find Vietnam manufacturers?
>> What are the opportunities and challenges of investing in Vietnam in 2022?
>> How to estimate the delivery cost?
>> Top 3 methods of machinery transport
>> The In-and-outs of the Logistics Shipping Process
>> The difference between procurement and supply chain