THE FUTURE OF SUPPLY CHAINS: BENEFITS OF ELASTIC LOGISTICS​
Today's fast-moving world means many companies have to begin moving with the times and trends to keep up with customer satisfaction and create more significant opportunities for themselves.
Supply chain demand and change can fluctuate at any moment, meaning firms have to be ready to adjust at any given time to meet demand; this now popular model used by warehousing and logistics teams is known as elastic logistics.
What Is Elastic Logistics?
Elastic logistics refers to the method of conducting business and logistics planning that enables flexibility through being able to upscale and downscale logistical capabilities dependent on the demand of a supply chain.
Elastic Logistics also works hand in hand with other types of supply chain operations to reduce cost and improve in light of the current needs of these chains.
Automated solutions can play a big part in the effectiveness of elastic logistics, and both work together to help create coherence and adaptability.
Image from: https://www.mixmove.io/post/elastic-logistics​
ELASTIC LOGISTICS- SUPPLY CHAIN ADVANTAGES
Consumer demand & satisfaction
An instant advantage to logistics companies and supply chains is the ability to be able to, as stated, up and downscale operations on the spot; this immediately cuts risk and cost and enables the end customer to be satisfied with quick and on-time delivery.
Satisfaction is also increased by the use of automated solutions, as customers can not only track their packages in real-time visibility but easily change any details that may be required.
This is an instant advantage to companies as the more likely consumers are to be loyal to their firm through this, meaning great profit and growth and improved customer experience.
Cost-saving
Using elastic logistics in supply chain management means reducing and deducting supply chain operations enhance cost-saving.
This is done by being able to reduce workload, transportation, and delivery operations to fit the new scale of demand, meaning no money is lost, and actual costs are saved through this.
Another cost-saving and efficiency factor through elastic logistics is the management of all deliveries and automation processes through one dashboard and filter. This means that any unexpected costs and projects can be dealt with increasing efficiency; this enables reliable financial control as all logistics operations are overseen with care, ease, and reduced risk of missing anything.
Storage cost is also cut as the flexibility of drawing backorders and adapting to demand means companies do not have to spend as much on containers and space that may not be filled.
Route Optimization
In alignment with artificial intelligence in elastic logistics, route optimization enables significant advantages for supply chains and logistics companies. As firms remain competitive in this sector, companies rely on means and ways of technology and warehouse operations to stay at the top of their game.
Transportation management systems may optimize routes by adopting elastic logistics to find the quickest, most sustainable, and most reliable delivery route. The use of this enables outgoing deliveries to be sent on the best route through forecast risks.
Deliveries are sent strategically to reduce risk due to bad weather, heighten the speed of delivery based on congestion, and reduce costs through less fuel consumption providing greater sustainability.
These technological advancements help create profit and support operating supply chains better for the logistics industry.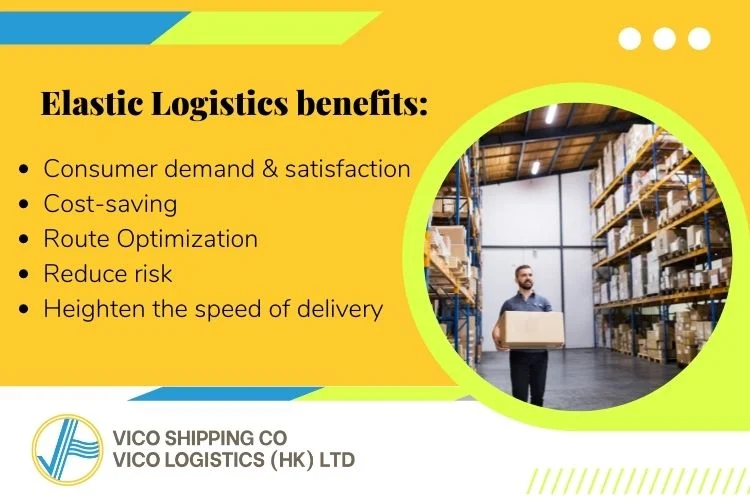 ELASTIC LOGISTICS- KEY SUPPLY CHAIN MANAGEMENT TRENDS​

Third-party partnering
Companies can further improve their flexibility within elastic logistics and help build an efficient supply chain by adopting 3PL or third-party logistics to limit the need for investment in internal operations.
This enables more reliable financial control. Despite changing needs, companies can now lease extra carrier space and warehousing to adjust to short-term fluctuating demand in further destinations.
In doing this, using 3Pl in the form of different courier services allows logistics partners to be ahead of the game when dealing with unexpected supply and demand. Elastic logistics further provides quality scaling opportunities through doing this.
Automation
Automation trends in elastic logistics mean incoming and outgoing deliveries can be worked out in the most flexible way, which is the best option for warehouse operations wanting to become better in scaling abilities.
Automation not only simplifies administration but helps to improve efficiency by reducing the risk of human error and offering a more accurate packaging process.
Increased customer retention
Adopting each trend and advantage enables increased customer fulfillment as all issues are addressed regarding how each freight is transported and dealt with. This can be anything from managing incoming data to ensuring smoother transitions, cost of delivery, and minimizing the risk of cargo in transit.
Real-time data also allows the consumer to be aware of the status of their package and quicker delivery instantly boosts companies' position to keep up customer loyalty.
In conclusion, elastic logistics is a great way to build customer loyalty and better experience and aid companies in cost-saving and efficiency.
The use of elastic logistics and technology enables route optimization, better flow of cargo, and increased warehouse productivity, all of which help grow profit and company attention, save costs and further satisfy the consumer.
Businesses should consider adopting elastic logistics if they want to reach new levels of flexibility within the logistics industry. In turn, they can reap the rewards of reduced costs, increased attention, and the loyalty of consumers, which can help take their company to the next level.
Read more
>> Help of AI: The automation technology in Logistics
>> Supply Chain Challenges: 2021-2022 update
>> Freight Consolidation versus Pool Distribution? Which one can save more cost for your business?
>> All you need to know about Certificate of Origin (C/O)?
>> How to get the lowest possible shipping freight quote?