The textile and apparel value chain is wholly influenced by purchasers; to create a finished product, the materials must first go through many production stages and these steps are often carried out in different countries. In particular, large manufacturers, wholesalers, and retailers are important as they establish production networks and shape mass consumption through a series of strong brands and outsourcing activities. The global textile and apparel value chain is divided into 5 basic stages:
Supply of raw materials (natural cotton, thread, etc;)




Production of intermediate goods from raw materials; products of this stage are fibers, fabrics provided by weaving, knitting and dyeing companies;

Design and manufacture finished products; designed by garment companies;

Export to other countries/buyers by commercial intermediaries;

Marketing and distribution by outlets.
TEXTILE AND APPAREL PRODUCTION PROCESS
There are 4 major methods of exporting for garment apparel outsourcing: CMT, FOB, ODM and OBM.
CMT (Cut - Make - Trim)
This is the easiest export method of the apparel industry and brings the lowest added value. Purchasers instruct the outsourcing businesses on how the product should be made, including the materials used, transportation, design, and specific requirements; the manufacturers only carry out stages of cutting, sewing and finishing products. Businesses using this method only need a basic understanding of design patterns in order to produce the finished product.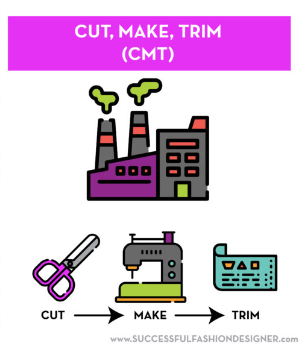 ​

OEM/FOB (Original Equipment Manufacturing)

The FOB export method creates products of a higher value compared to CMT; which is the production method of "buying raw materials and selling completed products". Businesses are actively involved in the production process, from the acquisition of raw materials to the design and production of the final product. Unlike CMT, exporters using FOB buy the required material directly instead of the material being supplied by their buyers. The procedures followed by the FOB have significantly changed based on forms of the actual contractual relations between suppliers and foreign buyers and are divided into 2 types.
FOB level I.
Businesses following this method will purchase the required material from a group of suppliers specified by the buyer. This method requires garment enterprises to bear the financial responsibility for the procurement and transportation of materials.
FOB level II.
Businesses following this method will receive product designs from foreign buyers and take full responsibility for sourcing their own materials, overseeing production and transportation of both raw materials and finished goods to specified locations. Businesses must find material suppliers with capable of providing the required material and being confident in their quality and delivery time. This method is high-risk, but the end product is of higher value than the previous methods.
ODM (Original Design Manufacturing)
This method of production for export covers the entire design and production process: purchasing the necessary fabric and materials, production of the product, packaging and shipping products. The ability to handle the entire process reflects the capability of the providers and results in both a lower base cost and improved value of the final product.
OBM (Original Brand Manufacturing)
OBM is based on the OEM method, but the manufacturers are responsible for their own designs, and sign domestic and foreign goods' supply contracts for their own brands. Manufacturers in developing economies that use OBM usually supply products in their own domestic market and markets of neighboring countries.
>> Vietnam Freight Forwarders for Textile Manufacturers



TOP TEXTILE EXPORT COUNTRIES BASED ON THEIR EXPORT MARKET VALUE IN 2020
1. China: China is currently the largest global textile exporter in the world, with its textile industries experiencing rapid growth after the 20th century. There are eight major categories of China's textile industries chemical fabrics, cotton fabrics, wool fabrics, silk fabric, knitted fabric, textile machinery, high-quality fibers, and garments. One factor for their success is the assistance provided by government support. With a great rise in profits, Chinese textile companies are becoming a global giant day by day.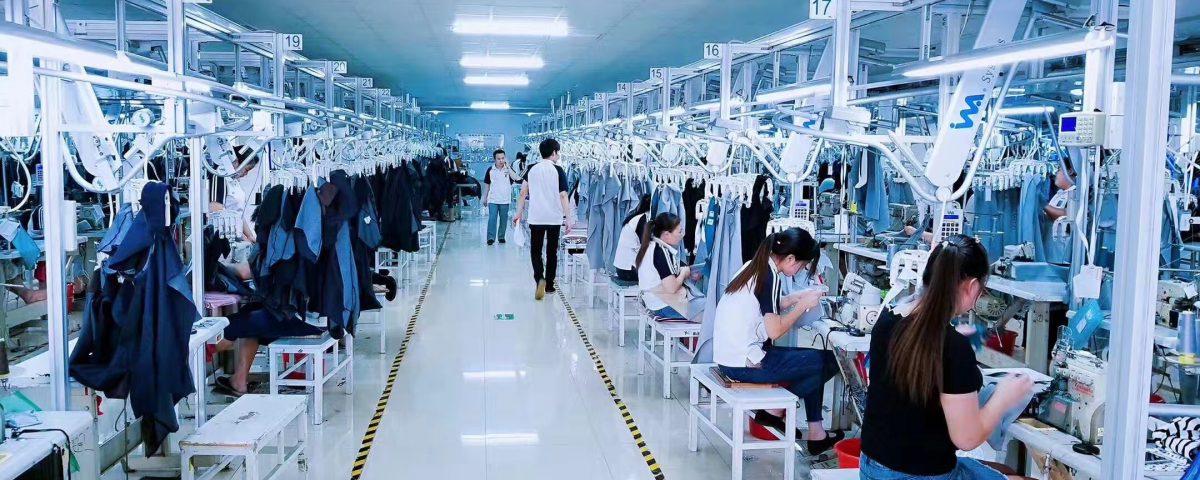 2. Germany: Germany is the 2nd largest global textile exporter in 2020 after China. The industries in Germany are mainly small and medium-sized businesses. Known for the speed of their production of textiles and clothing, as well as the quality of raw materials used, Germany is one of the biggest exporters of synthetic yarn, machinery, manmade fiber, and knitted apparel cloth. In the last few decades, the country has improved its product quality significantly.

3. Bangladesh: In. In the last decade, Bangladesh has emerged as a key garments supplier and now its textile industry is the 3rd largest global exporter in 2020. Bangladesh is the 2nd largest textile exporter of western fast fashion brands.
4. Vietnam: Vietnam has a long history of manufacturing, being the 4th largest textile exporter in the world according to the 2020 report. Vietnam's textile industries are formed of 3 sub-sectors – downstream sector, fiber production and upstream sector garments manufacturing. There are two major factors for the growth of Vietnam's textile industries: increasing exports to the US, Japan, EU and South Korea, and Vietnam's relatively low labor cost allowing it to stay competitive in the market. This advantage is expected to last several years, letting Vietnam remain as one of the top manufacturers in the world.
5. India: India is the 5th largest global exporter in the world and the 2nd largest producer of cotton in the world. 60 percent of Indian textile industries are cotton-based. The textile sector is the oldest sector of the Indian economy. The Indian textile sector consists of 2 major parts: the first is an unorganized sector producing mainly from handlooms, while the second is comprised of applied modern machinery and techniques. India has good quality production of yarn, chain, apparel and fabric. India is improving its textile manufacturing by using advanced technology to improve its quality of textile production while utilizing the knowledge of the previous generation.
>> Đâu là những thách thức cần đối mặt ở ngành sản xuất dệt may trong năm 2023?
OUR RECOMMENDATIONS FOR TEXTILE AND APPAREL TRANSPORTATION WITH VICO LOGISTICS:
a. For reducing time & cost in garment industry:
VICO Logistics offers a full range of services supporting the transportation of light industry goods, such as: international freight forwarding, intermodal scheme development, customs and documentation support, insurance, consulting, project logistics, and logistics. In addition, VICO has a global presence in ASIAN countries allowing us to improve and develop innovative logistics and transport of textile industry solutions on a continuous basis.
b. For minimizing risk in the garment industry:
VICO Logistics employees competently solve each issue related to the international transportation of light industry goods. Thanks to the well-coordinated work of our specialists, each of our customers are guaranteed maximum cargo safety during transportation of light industry products, a clear and well-organized delivery system, adherence to the established terms of transportation, and fulfillment of all technical and sanitary standards.
We look forward to cooperating with you!
For more information on our services, please contact us via our website or at our nearest office.
Related posts:
>> Forecast Of The Textile And Garments Industry In Vietnam 2021-2022
>> How logistics enhance Vietnam's textile and garment industry's advantages?

------------------

VICO LOGISTICS – Indochina Logistics Expert
​Premium member of Eurocham, JCtrans, Ziegler One, VLA, VCCI,... associations
Owned offices: Hong Kong (headquarter), China (Shenzhen, Shanghai), Vietnam (Ho Chi Minh, Da Nang, Hai Phong).
Follow us for more valuable information
Youtube https://www.youtube.com/@vicologistics2967
Linkedin https://www.linkedin.com/company/vico-logistics-hk/
Fanpage https://www.facebook.com/VICOLogistics
Book now: https://vico.com.hk/#quotation
Contact us: mkt4_hcm@vico.com.hk (For business development)
​​