VICO LOGISTICS: VALUE-ADDED SERVICES
On top of traditional logistics services, there are a lot more underlying services that are available for your business to ensure maximum efficiency and security for your supply chain!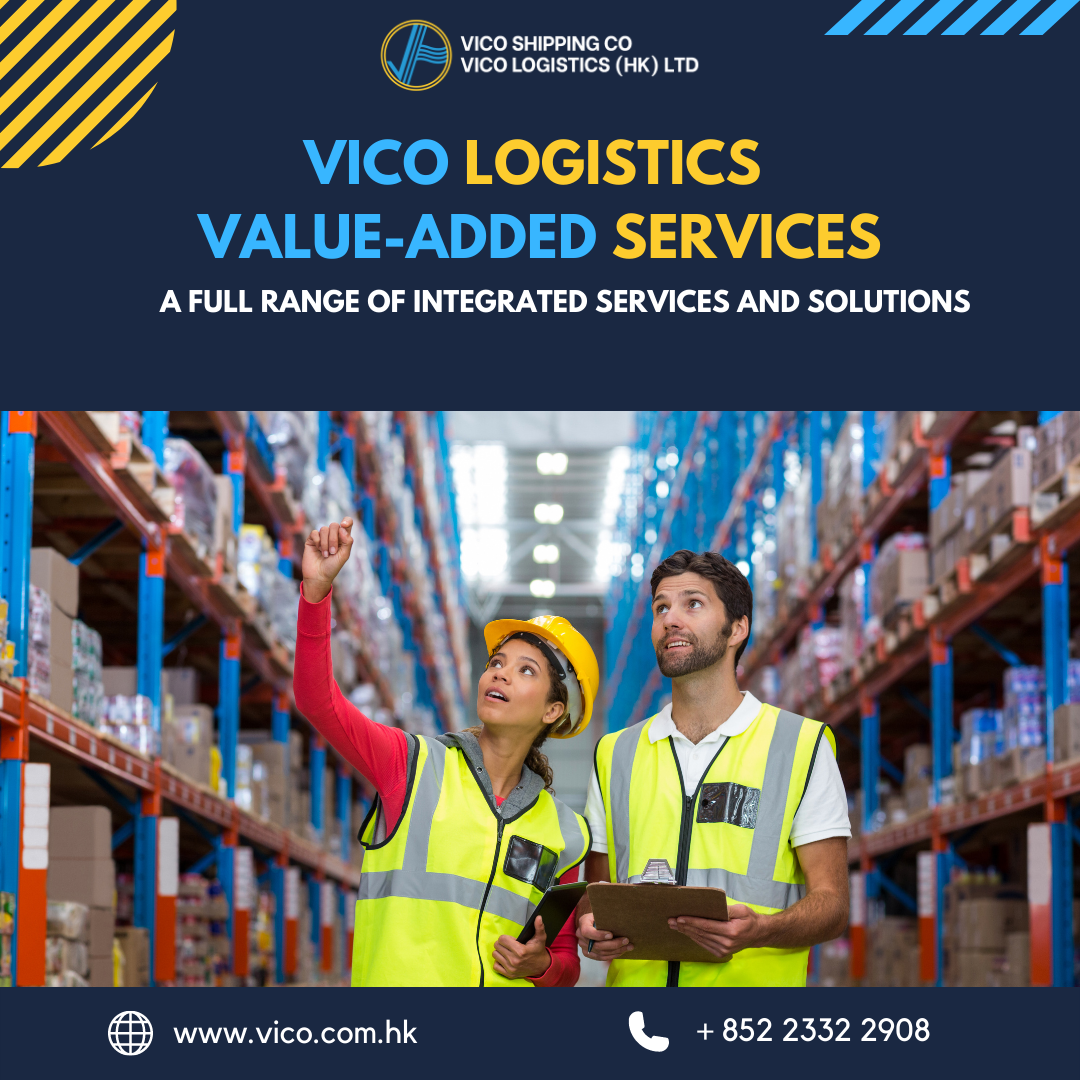 What do value-added services (VAS) mean?
Value-added services refer to services provided to customers, tailored according to their core business needs, on top of core services provided by logistics companies. Value-added service providers are usually logistics providers as well as they don't usually limit themselves to solely transporting services.
VICO'S VALUE-ADDED SERVICE EXAMPLES
Cargo Insurance
Cargo insurance is a value-added service tailored to your needs. It is a protection plan for possible shipping damage or shipment theft.
It is highly beneficial as it acts as a confidence boost for your shipping experience without you constantly worrying about the worst. VICO Logistics allows you to customize your cargo insurance to fit your cargo needs.
Customs brokerage
One of the most beneficial value-added services examples is custom brokerage.
Customs brokerage is a service that allows the smoothest shipping process by maintaining a proper communication with related agencies, officers, and government officials.
Ensuring that everything within the shipping process is performed accordingly.
For all of the destinations that VICO Logistics covers, we have successfully garnered a healthy network that makes customs brokerage even smoother and easier, giving your shipment a competitive advantage by saving time.
Warehousing
28 quality logistics facilities located in Hong Kong, China, Vietnam, Myanmar and close to 2,500,000 square feet of ambient, air-conditioned, and cold chain storage space
Multi-purposes for X-border transit hub, distribution center, contract logistics hub, VAS, and project logistics management with a customized logistics operation under One Roof, One Floor, and One Operator
Local distribution & X-border, bonded and non-bond capability, ISO 9000 and TAPA Certified, all are equipped with 24 x 7 security patrol, burglary alarm system, and CCTV surveillance.
Proximity to highways, ports, and major points of supplies
Others
Other value-added services include packaging and re-packaging services, tracking, quality control, assembly, and many more
WHAT ARE THE BENEFITS?
Value-added services go above and beyond providing traditional methods of logistics, these value-adding services are tailored to your needs to ensure customer satisfaction. Value-added services add an extra layer of confidence for your shipping journey as well as experience.
Why waste time worrying about your shipment when you can utilize these useful tools and reinvest your time back into your business? Let VICO Logistics handle them for you!
Different business model requires different shipping needs, therefore different versions of additional services, contact VICO Logistics today for a free consultation session with our representative and have your questions answered in no time!

 ​